Configure Sippoint
Customise
An avatar is a contact's calling card. You can customise your softphone by using a standard avatar, uploading your picture from a file or taking your photo with the web camera.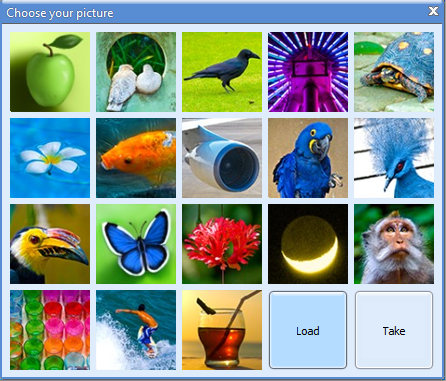 Caller ID
The Sippoint softphone also supports the Caller ID feature. You need to register your mobile phone number for this feature to work. To register, click the button at the bottom of the window.
You will be taken to your Personal Office with SIPNET, where you can specify your mobile phone number. Registering your mobile phone number will enable you to make full use of SIPNET advantages.
In the Trial Access mode (until you upload funds to your account for the first time), you can call landline and mobile phone numbers in Russia, the CIS and the rest of the world;
Communicate without having to listen to advertisements;
Participate in the Free Long-Distance and International Calls promotions;
Order a call by sending an SMS;
Top up your account more conveniently (for example, using QIWI terminals) – you will be able to specify your registered mobile phone number instead of your SIP ID;
The Caller ID feature shows your registered mobile phone number on the screens of landline and mobile phones of your contacts. Your family, friends or partners will know that the call is coming from you;
Upload funds
The Trial Access mode lets you experience the high quality of service. However, you need to upload funds to your account in order to maximise your communication experience. For your convenience, SIPNET supports a broad range of payment methods.
After topping up your account, you will be able to view your account balance at the top of the window.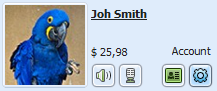 You can view the rate charged for the call to a particular destination while you are making the call.

Enter contact details
Contact details (additional phone numbers, website, name of your company, etc.) can be useful to your contacts.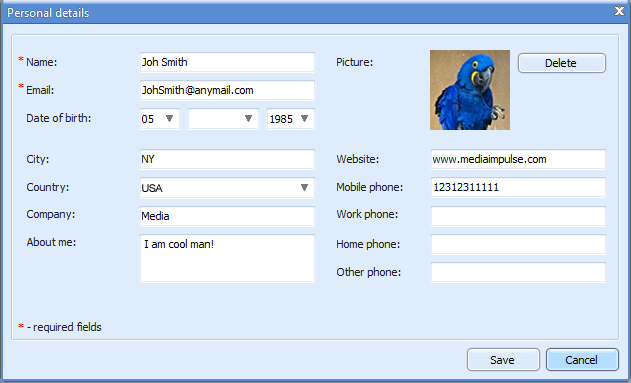 To enter your contact details, click your name at the top of the main window.
Settings
The application does not need to be configured additionally in most cases. To customise your settings, open the settings menu by clicking the gear icon.

The 'Sound' tab shows the default devices used for audio recording and playback. If you have a microphone and speakers, they are normally used by default (Windows Default Device). If you experience problems with your headphones or microphone, we recommend making sure that the device you are using is present in the list and has been selected as the default device.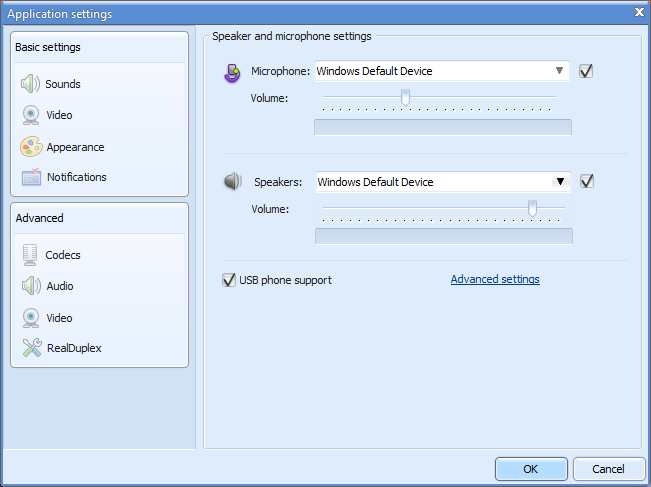 If you have bought and installed a web camera, but your contact does not see you, go to the 'Video' tab. If the camera is disconnected or improperly configured, you will see a blank field. Consult the camera manual to install it correctly.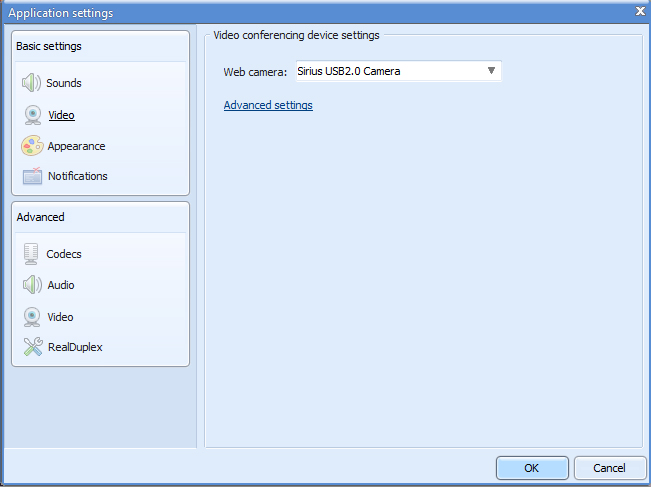 The application customisation features are not limited to changing the avatar. You can also select the interface colour style and image.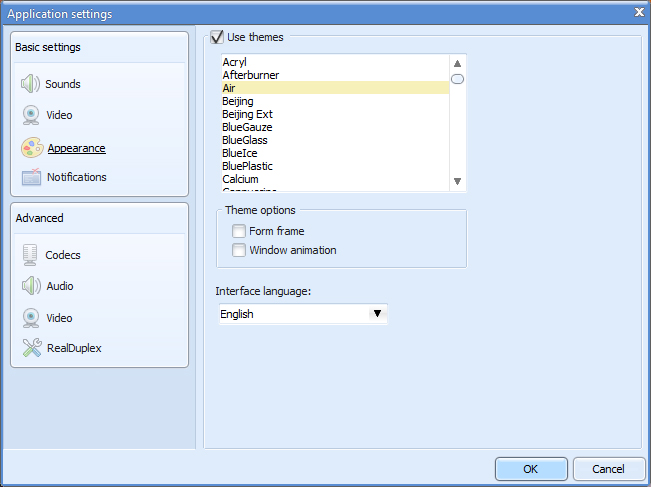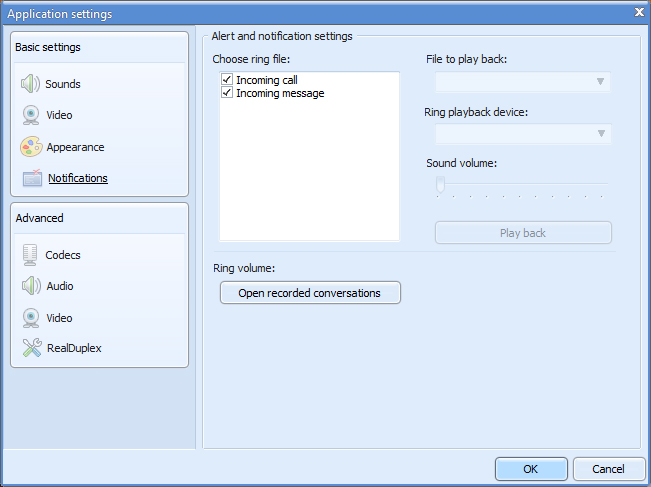 'Style options' – additional visual effects.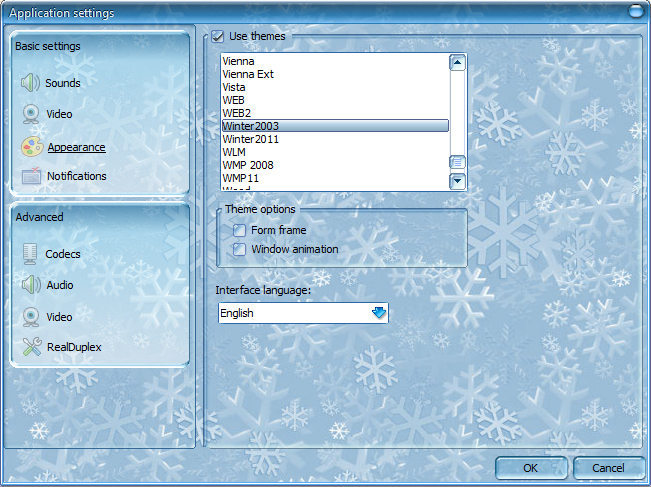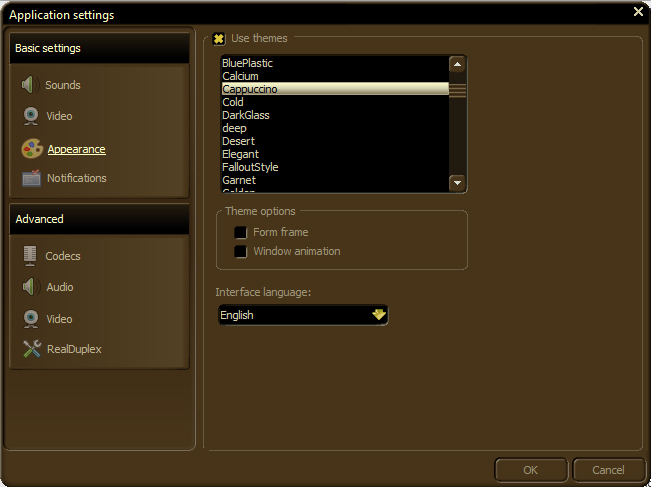 'Window frame' – any application window will be encased in a stylish translucent frame.
'Window animation' – an animation effect shown when you minimise or open an application window.
You can switch to basic style by clearing the 'Custom style' checkbox.
Select the 'Call' tab to change the call tune. Here you can select a new call tune and play it back.
The 'Service' tab provides access to settings intended for specialists and advanced users. The editing of service settings by inexperienced users can have adverse effects.
Calls to landline numbers
Using the Sippoint softphone is no harder than a regular mobile phone.
It is easy to place calls with the softphone. As with a mobile phone, you can dial the number with the keypad or select it in the phone book. To dial a number, open the second tab of the main window with the keyboard icon.
You can dial the number in a way that is more convenient: by clicking the buttons on the keypad with your mouse pointer or by pressing keys on your keyboard. Please note that you need to enable Num Lock to be able to use the keypad on your keyboard.
Please note: you have to enter phone numbers in the following format: [country code] [area code] [contact number].
Phone book
Adding contacts to the phone book lets you dial your contact's number with a click. To add a new contact, click the 'Add Contact' button at the bottom of the main window.
To add a phone number, open the 'Phone' tab. Type the contact's number (with the country and area codes) in the top field and the contact's name in the bottom field. Then click the 'Add' button. The contact's name will appear in the 'Phones' list in the main window. To call the contact, double-click the contact's name in the list. To finish the call, click the hangup button with a red phone receiver.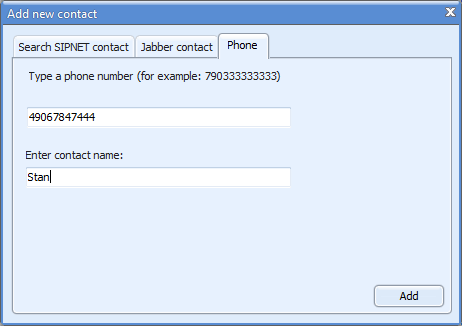 To add a Sippoint contact to your contact list, you need the contact's login, email address or name.
To add a Sippoint contact to your contact list, click the 'Add Contact' button. On the 'SIPNET Contact Search' tab, type the login, email address or name of the person you want to add. After locating your contact, select it by left-clicking, and click the 'Add' button. Your contact will be notified that you want to add him or her to your contact list. When somebody wants to add you to their contact list, you will also receive the same notification: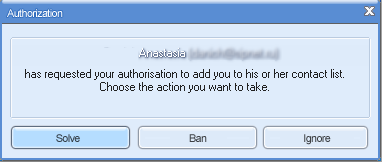 Add a Sippoint user to your contact list to be able to exchange instant messages and make free calls between computers.
Please note that your contact list already contains a contact named 'SIPNET Test Call'. This is a robot – a free application for testing your audio device settings. We recommend making a test call before calling an actual person. You will be offered to record a message (similar to an answering machine message) and then play it back.
If you were able to record your message and play it back successfully, you are all set to start communicating with your contacts.
Contacts and statuses
After adding a Sippoint user to your contact list, you will be able to use all the features of the new contact status tracking system. Please note: your contacts must also have Sippoint installed. If your contacts use a different softphone version (such as Sippoint Mini), be sure to encourage them to install Sippoint.
The status icon reflects your contact's current status. Your contact may be online or away. The status icon changes to 'Away' when the application is running but the user is not at the computer.
Status icons are convenient when you need to decide whether or not to call a contact or send an instant message. If your contact is online, you can call him or her or send an instant message. If your contact is away, you might want to call his or her mobile or landline number instead.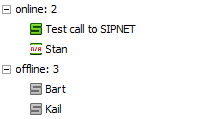 For example, a user named Ekaterina has a status icon showing a letter 'S' with a clock. This means that the user has been inactive for a short time. Meanwhile, a user named Valery has a status icon showing N/A, which means that this user has been inactive for a long time and is most probably away from the computer.
You can call any contact that has the application enabled. However, an inactive status means that your contact might not hear your call. In this case you might want to leave a message or call the contact's mobile phone. After you have added a contact to the contact list, we recommend adding his or her number to the list of phone numbers.
A green letter 'S' signifies that the contact is online. A grey letter 'S' means that the contact is offline.
'Do not disturb' is a special status.

By setting this status, the user informs all contact that he or she is busy. In this case you should make your call at a different time. You cannot call a busy contact. Your call will be aborted automatically. You can send a message, but the user with the 'Do not disturb' status will not receive a message alert.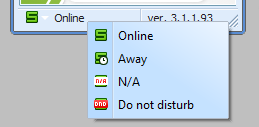 You can change your own status at the bottom of the main window. Other contacts who have added you to their contact lists will immediately see your status change. Please note that the 'Away' status is set automatically after you have been away from the computer for some time. You can also set this status manually if necessary.
Call forwarding
If you are expecting a call but need to leave the computer, you can use the call forwarding feature. To open this feature, right-click the grey field at the top of the main window.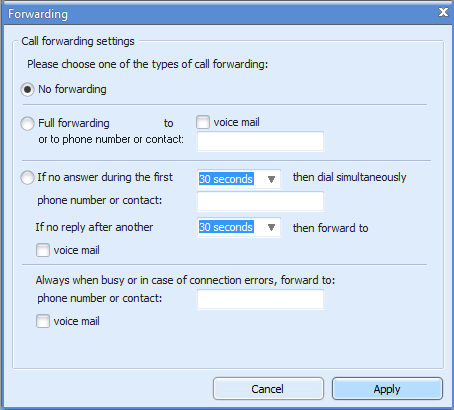 This feature forwards any incoming calls to other phone numbers unconditionally (full forwarding) or when you do not respond.
---
Install — Configure — Communicate